Join us at CocoaSupply's Open Studio Event:
When: Saturday and Sunday, May 20th and 21st
Time: Noon - 5pm
Where: 67 35th Street, Unit C407 (Building 5, 4th floor, Studio C407), Brooklyn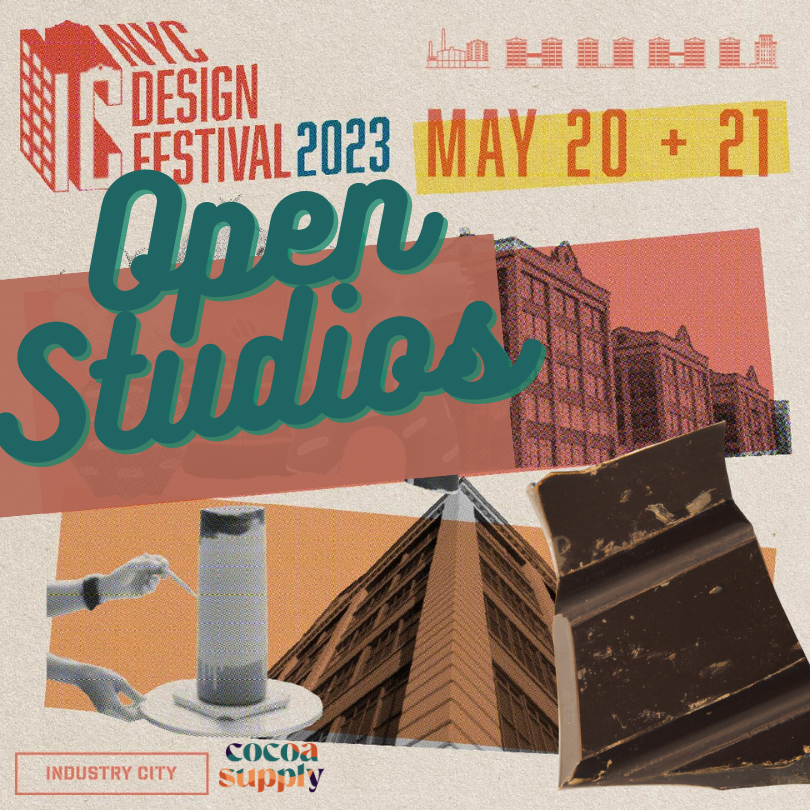 New York City, known for its vibrant culture and culinary scene, is about to become a chocolate lover's paradise! CocoaSupply.com is thrilled to invite you to our Open Studio Event hosted during the Design Festival, where we will be hosting a Craft Chocolate Market and Exhibit at Industry City. Join us for an indulgent experience celebrating the art and flavors of fine chocolate while learning about sustainability in cacao with ethical trading with farmers and the process of chocolate making.
At CocoaSupply, we are passionate about all things chocolate. As purveyors of premium ethical cacao, we aim to bring together artisans, enthusiasts, and the wider public to appreciate the complexity and richness of this delectable treat. Our Open Studio Event in Industry City is a unique opportunity to immerse yourself in the world of cocoa, where you can explore a variety of curated cacao products made by craft chocolate makers.
The Craft Chocolate Market at our Open Studio Event will feature a wide array of chocolate products, ranging from single-origin bars to truffles, cacao drinks, and unique chocolate-based confections. This is your chance to sample and purchase an assortment of exquisite treats from renowned chocolate makers and emerging artisans alike. Whether you're a seasoned chocolate connoisseur or simply looking to satisfy your sweet tooth, there will be something for everyone at our event.
In addition to the Craft Chocolate Market, our Open Studio Event will host a captivating exhibit showcasing the artistry and innovation of the craft chocolate industry. Marvel the cacao fruit pulp, learn about the origins of cacao, and delve into the fascinating history of chocolate-making. Engage with craft chocolate makers, sharing their knowledge about the bean-to-bar process, and providing insights into the various flavor profiles of different cocoa varieties. You'll gain a deeper appreciation for chocolate's versatility and discover new ways to incorporate it into your culinary adventures.
ndustry City, located in Brooklyn (Sunset Park, 36th Street Station), offers a dynamic backdrop for our Open Studio Event. This creative hub, nestled in the heart of New York City, provides an inspiring environment for artisans, entrepreneurs, and visitors alike. Explore the diverse range of shops, cafes, and galleries that make up this sprawling complex, making your visit to CocoaSupply's Open Studio Event an immersive experience in the world of art, culture, and, of course, chocolate.
Don't miss this opportunity to join us at CocoaSupply's Open Studio Event, where you can indulge your senses, discover new flavors, and connect with the vibrant community of chocolate enthusiasts. Mark your calendars for May 20th and 21st, and bring your family and friends along for an unforgettable chocolate-filled adventure in the heart of New York City. Immerse yourself in the craft chocolate market, explore the exhibit, and unlock the secrets of this beloved treat. We look forward to welcoming you to our celebration of chocolate at Industry City!
For more info: Industry City Open Studios Event